Christmas Decorations! 🎄
Does your family celebrate Christmas? Do you need some last minute decorations? Here are a few DIY (Do It Yourself) decorations that you may be interested in!
You can make an easy Cut-Out Snowflake by finding a template online, printing it, and cutting out the design. You may find a template that doesn't look like a snowflake; don't worry, you probably just have to fold it and cut out the holes. You can really make some beautiful designs making these, and they can all be different! There are more tutorials on instructables.com <http://www.instructables.com/id/How-to-Make-6-Pointed-Paper-Snowflakes/> or fornet
One of my favorite snowflake decorations is the 3D snowflake. First, fold a piece of paper into a right triangle by folding it in half 2 Times (diagonally) and cut off the excess. Cut strips (however many fit on the triangle) of paper, but don't go all the way down; leave space at the very end of the triangle. Make sure to cut from the side of the triangle where you can see both of your folds (creases). When you open the whole piece of paper up again, you should have 2 sets of cuts (however many you cut for each set) that look like triangles without a bottom. Fold these (from the inside going out) one way then the other, securing them with tape or a stapler. Repeat this whole process six times and tape or staple all six together with one centerpoint. Now you have a 3D snowflake❄️!!!
There are multiple websites and videos on this; in your search bar, type, "how to make a 3D snowflake," and you should get multiple results. One website is instructables.com. <http://www.instructables.com/id/3D-Paper-Snowflake-In-Four-Easy-Steps/> or forrnet.com <https://www.forrent.com/blog/apt_life/easy-to-make-3d-snowflakes/>
One more fun decoration is a Pour-Paint Christmas Tree ornament. First get a plain, clear Christmas ornament and multiple colors of paint. Choose which colors you want to mix and pour em' in! You can recycle leftover paint from inside the ornament and pour it into another one. When you are done, you an even draw a design with marker on the outside. This is really easy to make, and will give a lot of color to your Christmas tree!
Vist crafts-for-all-seasons.com <http://www.crafts-for-all-seasons.com/paint-swirled-ornament.html> For more information on your ornament!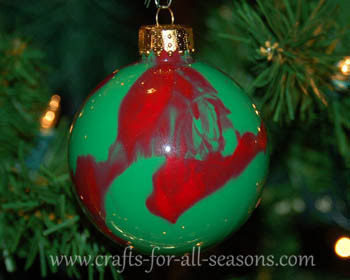 Happy holidays and have a wonderful winter, Stallions!